Gitanjali – Profound Spiritual Poems of Rabindranath Tagore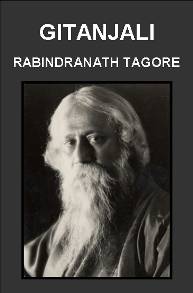 FREE BOOK! This book is available for a free download because its original copyright owned by the Macmillan Company has expired.
Title: Gitanjali – Profound Spiritual Poems
Author: Rabindranath Tagore
Level: Intermediate
| | |
| --- | --- |
| | Download a friendly pdf version of the 'Gitanjali' for easy printing, reading and forwarding. |
| | Download a photographed copy of the original book courtesy The Internet Archive. |
Book Summary – Gitanjali: Spiritual Poems of Tagore
"On many an idle day have I grieved over lost time. But it is never lost, my lord.

Thou hast taken every moment of my life in thine own hands.

Hidden in the heart of things thou art nourishing seeds into sprouts, buds into blossoms, and ripening flowers into fruitfulness."
– Rabindranath Tagore in the "Gitanjali"
"Gitanjali" is one of Rabindranath Tagore's best known works for which he received the Nobel Prize in Literature in 1913.
Many of the verses in Gitanjali are beautiful prayers written after a gut-wrenchingly painful period in Rabindranath Tagore's life, during which he lost his father, wife, daughter and a son in quick succession. His unfathomable pain and unshaken devotion to God are captured in the moving prose-verses of Gitanjali, which Tagore dedicated as "Song Offerings".
For a reader uninitiated in Tagore, it is my humble recommendation that they read the prose-verses of Gitanjali only after gaining familiarity with some of his other works.
His books Glimpses of Bengal and Sadhana are a great place to start and are available for a free download at the website. In that way the reader will have gained a fuller perspective and a rich contextual background, to weight Tagore's words against.
When one reads the works of Tagore, one detects a clear stream of spirituality and an intense love for Nature that flows through most of his books. It is no exaggeration that the more works of Tagore one reads, the more one falls in love with this simple and beautiful poet.
He shone forth brightly his lamp of timeless wisdom of the East – that this Universe has been created out of pure love, and it is only our love for each other together with peace, justice and freedom that will sustain it. It is no wonder that in India, Rabindranath Tagore is revered as "Gurudev" – "a teacher embodying God-like knowledge", a title conferred upon him by Mahatma Gandhi.
Enclosed below is one of Tagore's most famous poems from Gitanjali:
WHERE THE MIND IS WITHOUT FEAR

Where the mind is without fear and the head is held high;

Where knowledge is free;

Where the world has not been broken up into fragments by narrow domestic walls;

Where words come out from the depth of truth;

Where tireless striving stretches its arms towards perfection;

Where the clear stream of reason has not lost its way into the dreary desert sand of dead habit;

Where the mind is led forward by thee into ever-widening thought and action —

Into that heaven of freedom, my Father, let my country awake.

– Rabindranath Tagore in "Gitanjali"
<< More FREE BOOKS by Rabindranath Tagore! | Spiritual Bee Home | Bookstore >>
Recommended Reading – Spiritual Wisdom from Rabindranath Tagore!
Why is Nature So Beautiful? Why Does It Fill Us With Joy and Peace?
Why We Must Be Thankful for Difficult Times
Powerful Motivational Words that Renew your Spirit in Difficult Times
What Can a Child Teach Us About Failure?
Beautiful Life Poem – Life is Short, Keep that in Mind and Rejoice
A Prayer to Elevate the Mind and Soul
Why are Temples and Monasteries Built on Cliffs and Mountain Tops?